Debit Card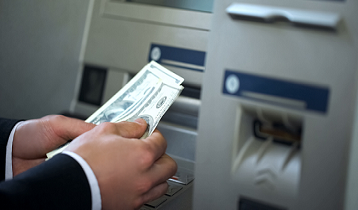 Debit Card Alerts Registration
About State Bank of India

State Bank of India, India's largest Commercial Bank in terms of assets, deposits, branches, number of customers and employees, enjoys the continuing faith of millions of customers across the social spectrum.

Founded in 1806, Bank of Calcutta was the first Bank established in India, and over a period of time, evolved into State Bank of India (SBI). SBI represents a sterling legacy of over 215 years. It is the oldest Commercial Bank in the Indian subcontinent, strengthening the nation's trillion-dollar economy and serving the aspirations of its vast population. The Government of India is the single largest shareholder of the Bank. SBI is ranked 221st on the Fortune Global 500, 2020. The equity shares of SBI are listed on the Bombay Stock Exchange Limited, Mumbai along with the National Stock Exchange, Mumbai and the Global Depository Receipts (GDRs) are listed on the London Stock Exchange (LSE).

SBI, headquartered in Mumbai, has an extensive network, with over 22,000 plus branches in India, 62,000 plus Pan-India ATMs and 233 overseas offices spread over 32 countries having the largest presence in foreign markets among Indian banks. The Bank is having asset size of more than USD 620 billion, 245,000 employees, 459 million customers.
Operations:-
SBI offers a wide range of products and services to individuals, commercial enterprises, large Corporates and Institutional customers
Personal Banking
SBI puts customers and clients at the centre of everything it does and by continuing to do this, it will always remain the "Smart Bank" to partner with.
Corporate Banking
This offering is an end-to-end proposition and service continuum that supports corporate India of all shapes and sizes, from start-ups, through big companies, to partnering with the largest global corporations and financial institutions
Investment Banking
From it's unique position with home markets and truly global reach, SBI is transforming Investment Banking so that the Bank can continue to help our target clients achieve their ambitions.
SBI's non-banking subsidiaries/joint ventures are market leaders in their respective areas and provide wide ranging services, which include insurance, merchant banking, mutual funds, credit cards, factoring services, security trading and primary dealership, making the SBI Group a truly large financial supermarket and India's financial icon. SBI has arrangements with various international / local banks to exchange financial messages in all business centers of the world to facilitate trade related banking business, reinforced by dedicated and highly skilled teams of professionals.

SBI puts customers and clients at the center of everything it does and by continuing to do this, it will always remain the "Smart Bank" to partner with. For more information about SBI Group, please visit the website www.sbi.co.in or www.bank.sbi.
SBI New York Branch
SBI, the most trusted brand in the banking horizon in India, has had a remarkable presence for over 40 years in the US, with the opening of it's New York branch in 1970. The branch is FDIC insured and offers a bouquet of services to the clients by dedicated verticals for Corporate Credit, Trade Finance, Deposits and Remittances.
The various focus areas are as detailed below:
Corporate Credit: The branch facilitates raising both Fund Based and Non-Fund based debt in US dollars by corporates through bilateral and syndicated arrangements.
Deposit & Remittances: Dedicated teams at the branch cater to both Corporate and Individual clients and offer Deposit Accounts comprising Certificate of Deposits, Money Market Deposits and Checking Accounts with facilities like ATM cum Debit Cards, Internet Banking and Online Account Opening. Remittance services in all major currencies are also being offered.
Trade Finance: The branch offers innovative products on state of the art platforms. The offerings include Letters of Credit, SBLCs, Trade Credits and Multilateral Agency (ECA/MLA) Backed / Partnered Finance.